Branson, Missouri
is one of America's top vacation destinations, with over seven million visitors each year. If you're looking for a place to take your student music group that offers outdoor fun, world-class live entertainment and thrilling rides, then you should check out Branson!
Silver Dollar City

Voted one of America's top five theme parks by USA Today, Silver Dollar City will take you back in time to the 1880s. Your students can brave the rapids of Mystic River Falls, plummet 162 feet on a wooden roller coaster, or relax as they ride a steam train through the beautiful Ozark countryside. You can also travel 500 feet below the surface on a guided tour of Marvel Cave, or watch artisans demonstrating their crafts. Be sure to bring home one of their products as a souvenir to remind you of the fun you had at Silver Dollar City!
The Titanic Museum Attraction

This educational attraction displays over 400 artifacts from the Titanic and its passengers. You enter the museum through an artificial iceberg and get a boarding pass with the name of a real passenger or crew member. At the end of the tour, you'll find out if they survived. As your students touch a real iceberg, dip their fingers into 28-degree water and try to stand on the sloping decks, they'll understand what life was like on Titanic's short, tragic voyage.
Dogwood Canyon Nature Park
Dogwood Canyon Nature Park is a 10,000-acre paradise with stunning waterfalls, bluffs and creeks where your students can learn about the importance of conservation. Your group can explore the educational Nature & Conservation Center, visit a working grist mill, and hike miles of trails. You might even see elk, white-tailed deer or buffalo in the Canyon!
Fritz's Adventure

At Fritz's Adventure, there's a real airplane suspended overhead, multistory ropes course, laser maze and climbing elements, all under one roof! Don't miss Fritz's Via Ferrata, a 50-foot outdoor climbing wall. Or try Fritz's Aerodium, where you'll fly 25 feet in the air with wind speeds up to 125 mph!
Showboat Branson Belle

During this two-hour cruise on Table Rock Lake, you'll enjoy music, dancing, comedy and magic while dining on a delicious meal prepared right on the ship! This live performance includes songs from the '60s to the present, including a tribute to America's favorite movies. You and your students can rock the night away to familiar tunes!
Mel's Hard Luck Diner
Home of the original singing servers, Mel's is a 1950s themed diner famous for their supersized desserts and classic burgers. The servers are professional singers, songwriters and musicians who'll sing your favorite songs while serving you a delicious meal!
The Haygoods

Members of the Haygood family play over 20 instruments during this high-energy performance. With state-of-the-art special effects, energetic choreography and incredibly tight harmonies, it's an unforgettable experience. You'll even meet the performers and have your picture taken with them! This show is one of the reasons that Branson is known as the Live Music Show Capital of the World!
The Track Family Fun Parks
 The Track Family Fun Parks have been making families happy for over 30 years! With three high-rise go-kart tracks, bumper boats and cars, arcades and thrilling rides, you'll find something for everyone. The latest addition is Chicago's iconic Navy Pier Ferris Wheel, which rises 150 feet into the air, and boasts amazing views of Branson and the Ozark Mountains.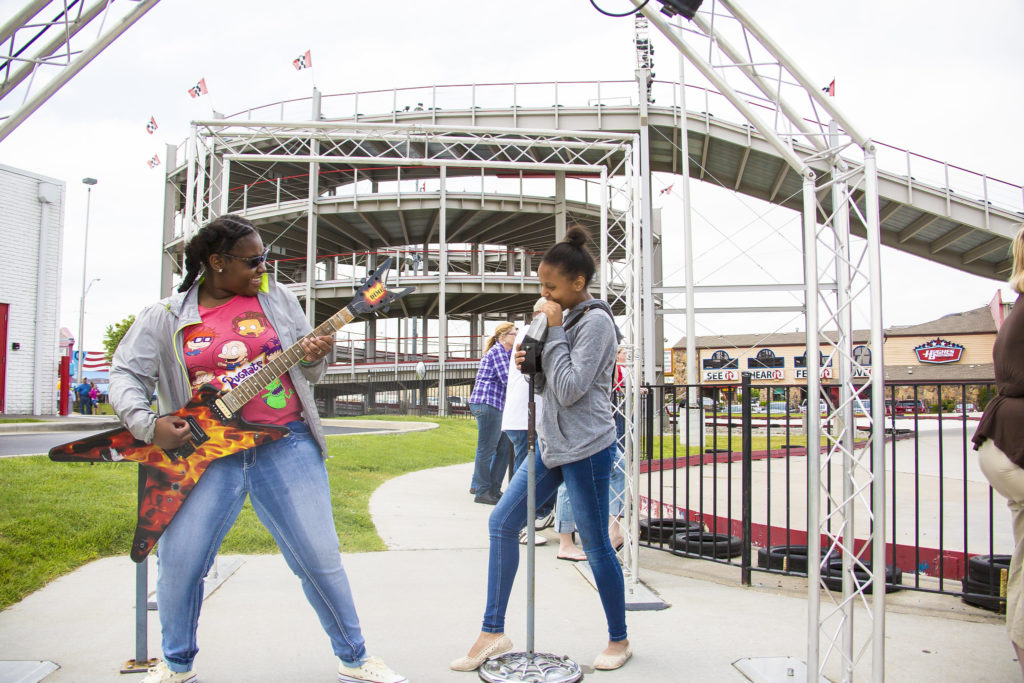 Branson On Stage Live
At Branson On Stage Live, your group will have the chance to perform in a real Branson venue! Your students will take part in a pre-show sound check and clinic led by professional musicians currently performing in the Branson area. Then, they'll perform on stage as the opening act! 
Looking for more information to take your student groups to Branson?