Musical performance travel offers your students a multitude of benefits. It provides them with the invaluable experience of performing for a live audience. Plus, it gives them the opportunity to discover more about the world around them!
Field trips, in general, are a great way of getting your students up close and personal with history. Plunging them into real-life learning opportunities can spark enthusiasm in them. They may even fall in love with a subject they are not so passionate about in the classroom. This is especially true of a field trip to Pearl Harbor.
Visit Pearl Harbor
Pearl Harbor is a beautiful and infamous location. This National Historic Landmark offers stunning scenery.   More importantly, a trip to Pearl Harbor can help your students better understand the world-changing military strike that began there just before 08:00, on Sunday morning, December 7, 1941. Visiting is an experience that your high school band tour group will remember far beyond their time at school.
Although your students may already know what happened on this "date which will live in infamy," it can be difficult for them to grasp the importance of it. Taking what they have learned from their textbooks and applying it to the real world can be tricky. By standing on the actual sites where such crucial events took place, your students can begin to gain a real sense of what happened there. In person, it is easier to see why it was so important for the US and the rest of the world.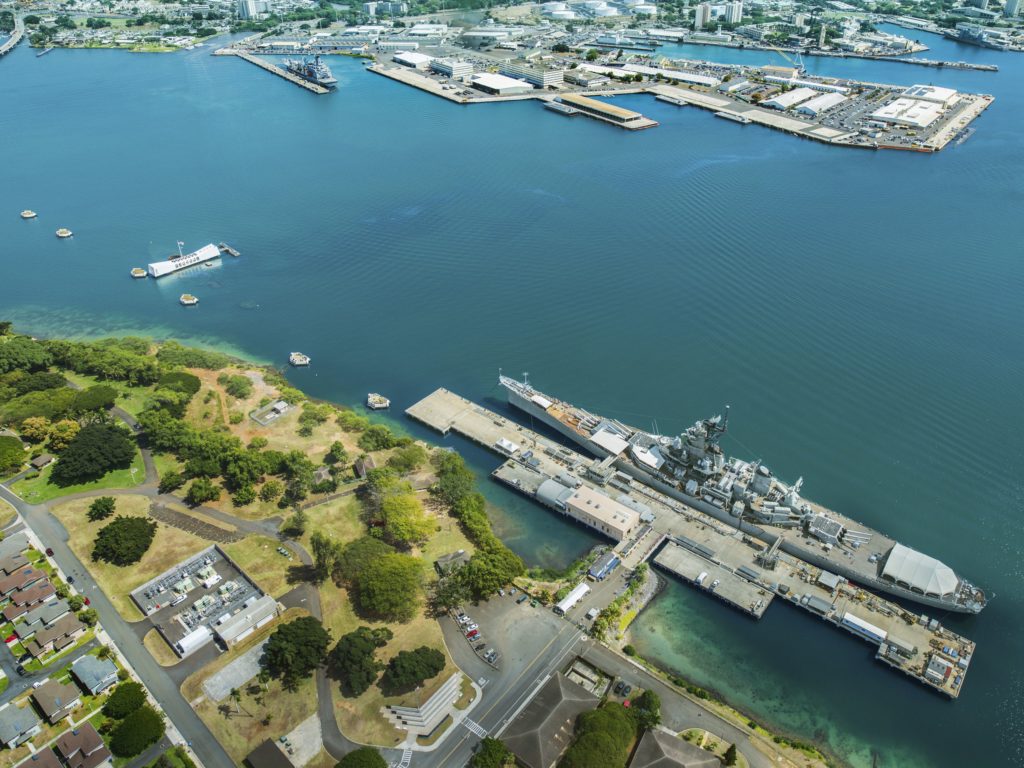 Tour the USS Arizona Memorial
Take advantage of touring some of the important remembrance sites located here. This is a fantastic way to further the educational experience. For instance, you can visit the USS Arizona Memorial. It is situated directly above the battle-scarred ship which rests precisely where she went down all those years ago. This allows you to discuss with your students the importance of keeping what happened on that day alive in our minds. We remember so that future generations are not doomed to repeat the mistakes of the past.
The battleship, which is submerged in forty feet of water right off the coast of Ford Island, can only be reached by boat. Stepping foot onto the site where so many lost their lives cannot be taken lightly. It will prompt your students to consider the great sacrifices made by the heroes who were there that fateful day: the people who gave their lives to protect and defend their country in that surprise Japanese attack.
Explore the USS Missouri
Another memorable site you and your students can check out is the awe-inspiring battleship USS Missouri. This enormous vessel was the last American battleship ever built and the final one to be decommissioned. It now stands silent guard over the harbor itself. As such, it is an important symbol of the continued peace for which the country strives.
Onboard, your students will be amazed by the ship's massive, 16-inch, 50-caliber guns. They will also enjoy seeing the inner workings of this stalwart defender. A highlight of the experience will be viewing the exact place where the surrender of the Empire of Japan brought the Second World War to an end. It happened right on the deck of this mighty ship.